Foster's Compression Care Center
Welcome home! As the only authorized dealer to carry every style and color in the Sockwell Socks collection. See why these socks fit life itself.

What Makes Sockwell Special?
At Sockwell, they take the time to put all-around wellness into every stitch. They do this with:
Well-chosen fibers from homegrown American wool sourced from farms that truly care about the health of the animals they raise. Cashmerino and fine alpaca fibers provide natural thermoregulation without additives. Other fibers like bamboo rayon are chosen for durability from a renewable resource to support customers and the environment.
Well-constructed design* in graduated compression and relaxed fit & diabetic friendly options, which can give you options for your level of compression while minimizing swelling, promoting circulation and reducing fatigue.
Well-considered practices support local economies using state-of-the-art manufacturing right here in the USA. Sockwell uses responsible sourcing practices and participates in the HomeGrown Wool Initiative, all designed to support American shepherds and free-grazing animals for a positive impact on the environment, animal health and local communities.
Designed for Durability, Developed for Comfort
Sockwell Socks are designed to last, but that doesn't mean they aren't comfortable!
Take it from Yotpo-verified buyer, Frances A, who said:
" I have had one pair of Sockwell socks for about five years now and they are wearing a little thin in the heel but are still comfortable and look nice. They have really helped with the swelling on my broken ankle."
When was the last time you had a pair of socks, any pair, that lasted five years?
That's durability! Sockwell Compression Socks are designed with your comfort in mind. These aren't your run-of-the-mill compression socks. With styles ranging from knee-high, crew, quarter, micros and everything in between, you're sure to find the right style to fit your comfort levels and needs. And the comfort levels come in a variety of choices, as well:
The Essentials line combines Accufit technology with high-performance luxury fibers to give you a look and feel to support your everyday lifestyle.
The Relaxed Fit style of the Diabetic-Friendly, Bunion Relief, Metatarsal Relief and Plantar Relief lines provides a light cushion sole and arch support to soothe and comfort your feet, legs and entire body.
Moderate compression in the TherapeuticStyle lines provides a light level of support that hugs your foot, ankle and calf to keep circulation going and prevent pooling in the foot.
The TherapeuticSport lines also offer a firm compression (20 to 30mmHG) choice, which maintains comfort while giving you even more support throughout the entire time you're wearing your Sockwells.
What Can Compression Do for You?
The trusted doctors at WebMD point out that balance is good for everyone's health; not being on your feet too much or too little is the key to great circulation. But people in many fields don't always have the luxury of choosing to take a break from either extreme. If you work in the nursing or healthcare fields, as well as education, retail, salons, and spas, hospitality or even construction, you know that your circulation can suffer from being on your feet too much. Alternatively, if you work in an office environment or another sedentary field, your health can suffer just as much from sitting too much.
Wearing compression socks can help ease your pain and your troubles by improving your blood flow, regardless of whether you're on your feet too much or too little. The gentle compression from Sockwell Socks helps keep the blood from pooling by promoting circulation back up through the body. This may also help prevent blood clot formation, relieve symptoms of other foot and leg worries, reduce swelling and decrease fatigue.
"Wonderful socks! Purchased the compression socks for my daughter who is a nurse. She loves them!" Denise G.
"Refreshed! Work in surgery -- going fast all day -- and these socks keep my legs feeling good and eliminate the end-of-day swelling." Kimberly A.
"Love the feeling my legs have after a 12-hour shift. These feel wonderful and help keep my edema under control." Virginia
"Exceeded my expectations! A few of my friends have raved about these socks, and I finally broke down. I wear them to work and my legs don't hurt at the end of the day!" Beth R.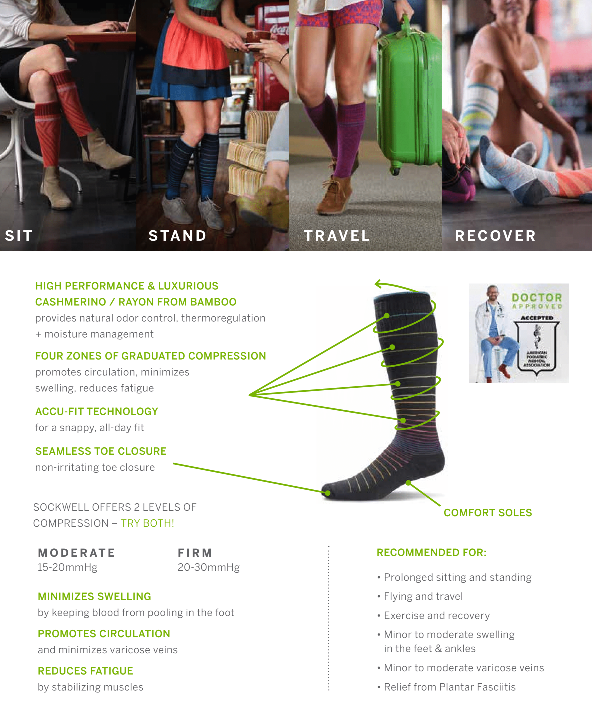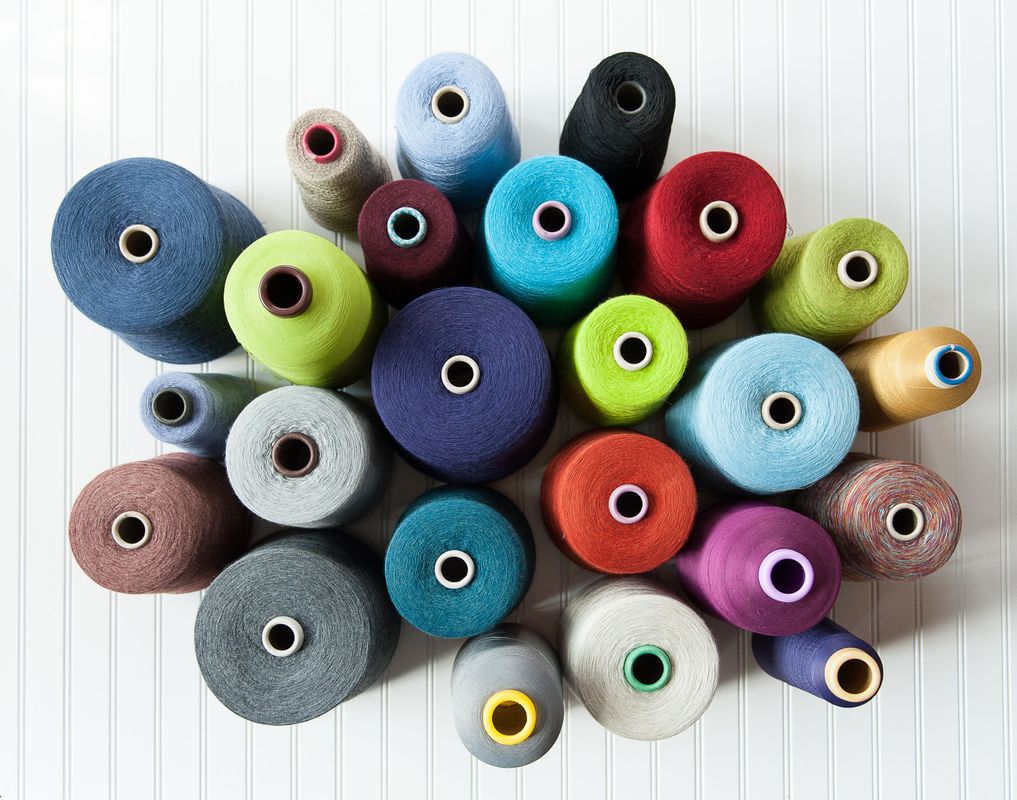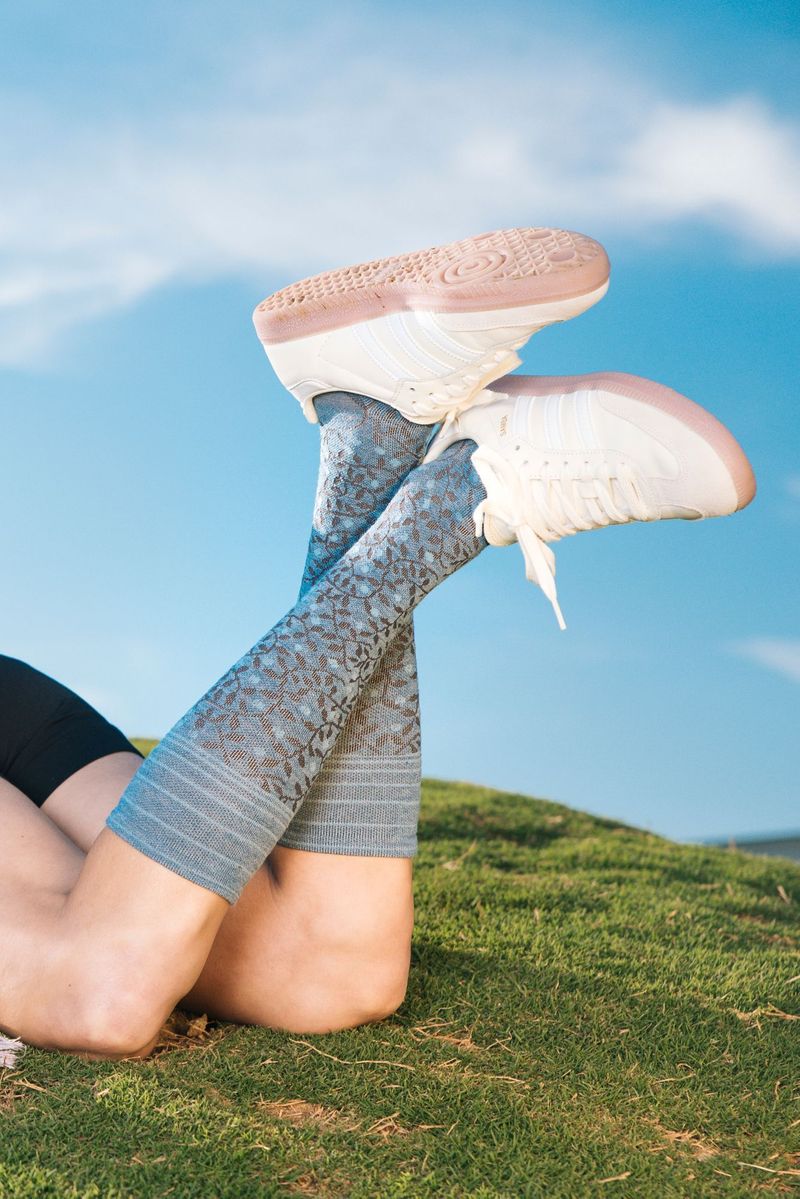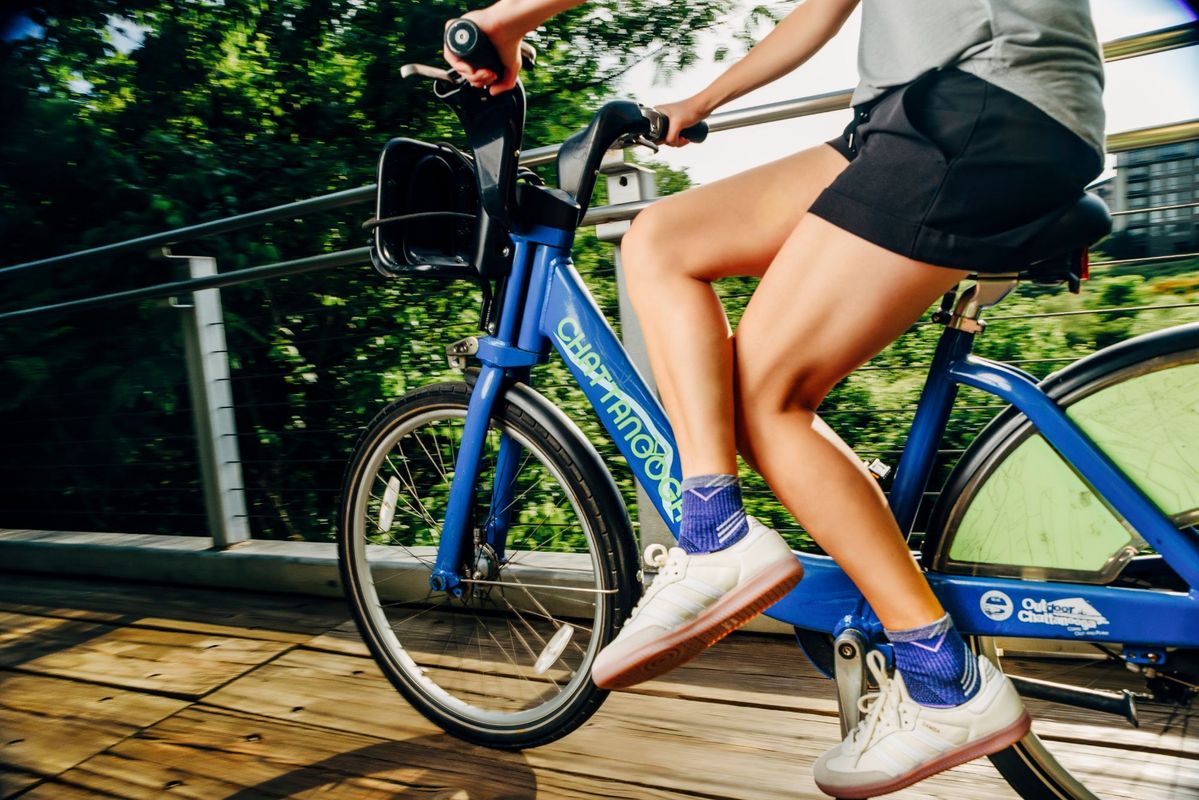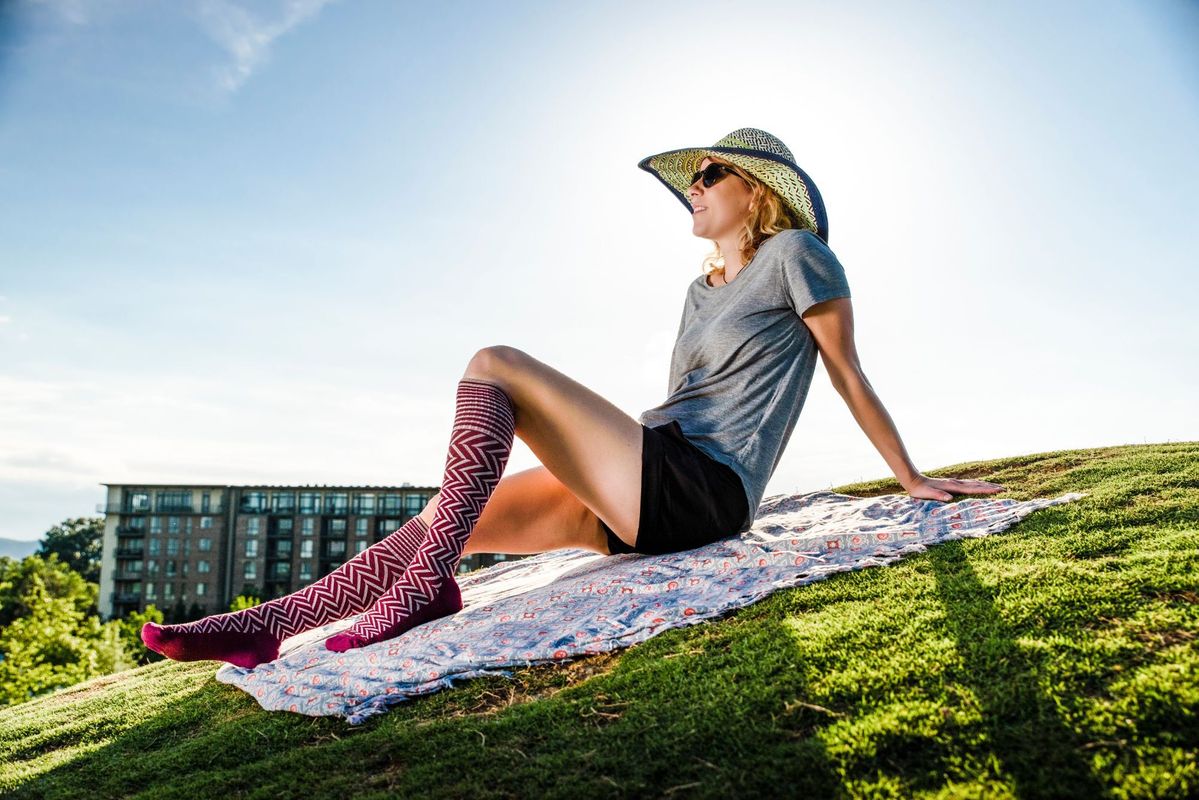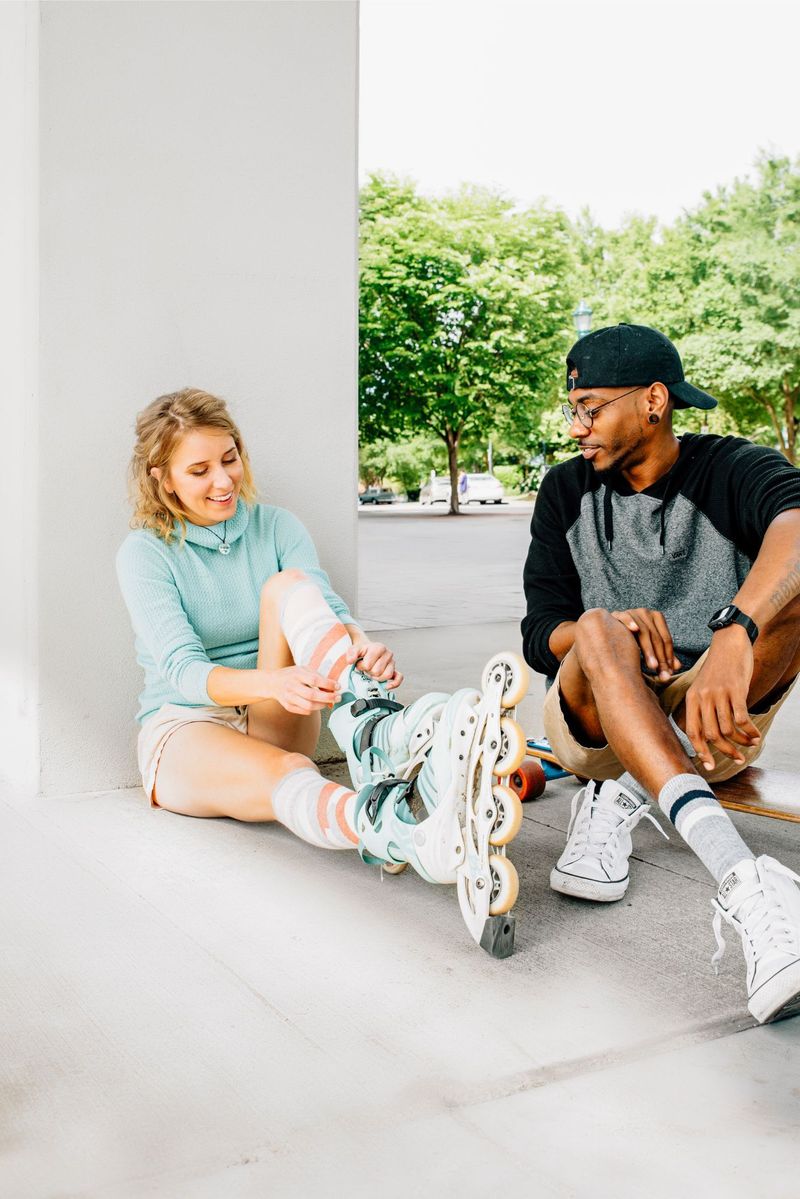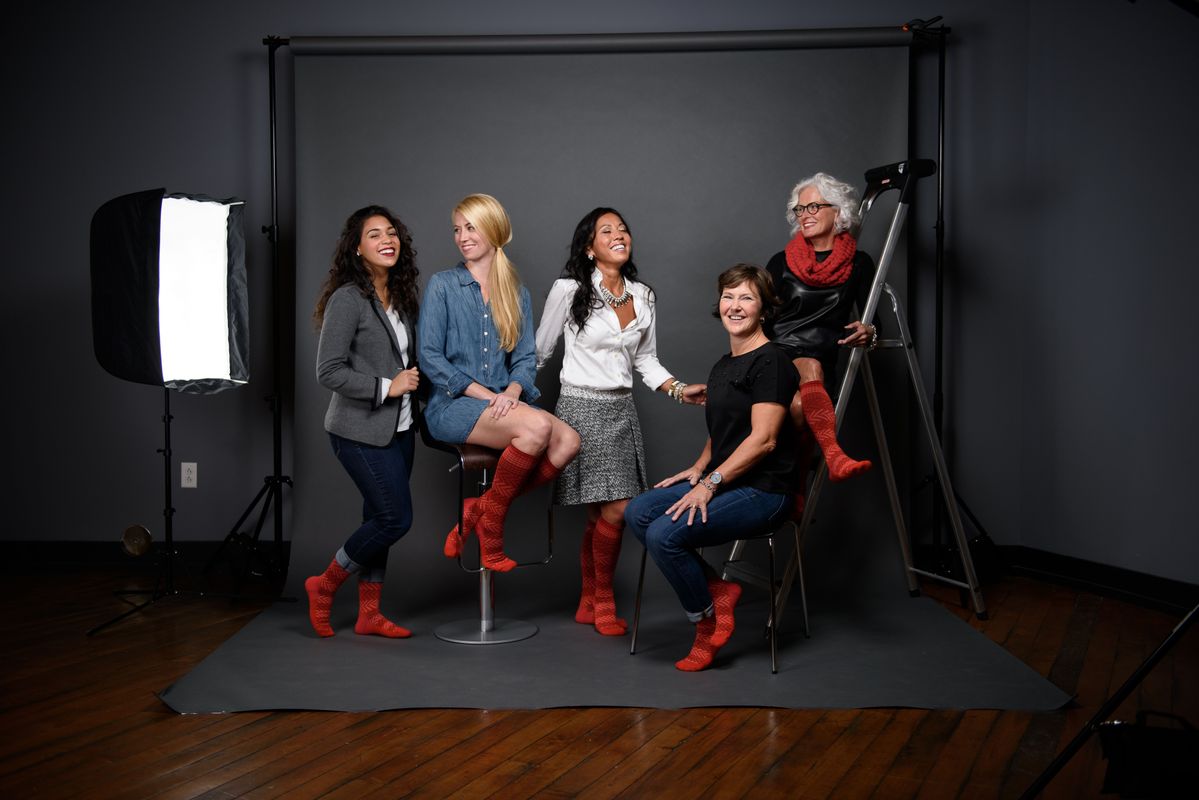 Compression
Helps improve blood flow.
Helps reduce fluid from pooling in the legs and feet.
May assist in the prevention of blood clot formation in deep leg veins.
Helps relieve symptoms of issues, like varicose veins in people who stand or sit for long periods.
Anyone who sits or stands for long periods, and even outdoor enthusiasts and athletes, are at risk for leg swelling, back pain and overall fatigue. Wearing compression socks can help you stay on your feet and carry on with the activities you love, all by supporting your legs from the sole up.
Sockwell Gives You the Support You Need
Carefully chosen combinations of Merino wool, bamboo rayon, stretch nylon and spandex make Sockwell socks soft and comfortable while providing the support your legs and feet need. Ultra-light cushion soles support the weight of your whole body and help keep you light on your feet. Sockwell offers a variety of lengths, including micro, crew, quarter, over-the-calf and knee-high socks, as well as sleeves for those who only want leg support. Sockwell compression socks feature:
Spandex woven throughout the sock for a comfortable but supportive stretch
Graduated compression throughout the sock for the level of support you need
Turn welt tops to keep them from falling down or rolling
Arch support to cradle the foot and support full-body movement for people on the go
Seamless toe closure so you won't be distracted by thick, moving seams
Graduated Compression
Sockwell's graduated compression socks come in two levels of comfortable support: 15-20 mmHg for moderate support and a firm 20-30 mmHg for added compression support. Both are recommended for anyone who:
Works or plays for prolonged periods of time while sitting or standing - Travels, especially for long flights or rides
Wants to combat minor to moderate swelling in feet and ankles
Suffers from varicose veins or plantar fasciitis
Relaxed Fit & Diabetic Friendly
Sockwell's Relaxed Fit & Diabetic Friendly compression socks offer all the benefits of the graduated compression styles, and they have a non-binding true rib top and a protective pressure-dispersing cushion. This relaxed fit is easier to slip onto the foot and provides excellent thermoregulation and moisture management. Sockwell Socks Are Stylish, Too Unlike with other compression sock brands, you don't have to settle for boring black or white socks when you choose Sockwell. Starting with a base of classic colors like natural, light gray, denim, and espresso, we weave bright pink, yellow, orange, green, blue and more to add a palette of vibrancy and patterns throughout Sockwell's socks and sleeves. Block, stripes, geometric and polka dot are just some of the designs you'll find in Sockwell compression sock collections.
Women's Collection
Sockwell Women's collection offers sizes made to fit the contours of female feet. You'll enjoy wearing these socks all day at work or while working out or just relaxing. Great looks, like the Sport Ease quarter sock, have a stylish stripe pattern you'll want to show off. Available in black, natural and light gray, these socks go great with Alegria Mary Janes or Classic Clogs.
For more coverage, there are crew and knee-high choices like the Argyle.These classic argyle colors offer the compression construction you need to stay on your feet. Fashionable options like charcoal, espresso, denim and black give you a look you want and the support you need. Plus, they're accepted by the American Podiatric Medical Society as recommended compression wear.
Men's Collection
Whether you're an athlete or a professional trying to maintain a competitive edge, rest assured Sockwell can also give you the advantage you need. Quarter, crew and knee-high lengths will provide you with stylish support. Bold stripes of color like those in the Synergy style are ideal for work or play; six colors to choose from give you options throughout the week and the seasons. For a longer look, try the over-the-calf Incline . With 15-20 mmHg compression for moderate support, this American Podiatric Medical Association accepted compression sock is a great complement to your outdoor fun and your work week. Pair them with a great pair of comfortable shoes like Alegria's Men's Loafers for all-day support.
Whether at work or play, wear Sockwell Compression Socks if you want to wear your socks well. They don't just support you; they support the place we stand and live in.
Styles for Every Lifestyle
Not only do Sockwell Socks help you throughout your workday, but they can also give you a second-shift as you play and relax. Athletes and outdoor enthusiasts can benefit from the great fit and superior support of compression. Whether it's a special occasion like a trip or vacation, or an activity you enjoy doing all the time, the stylish array of colors, lengths and compression levels cradle your feet while you get your game on!
Verified customers say:
"Best socks ever! As an avid equestrian, I need a sock that breathes, offers light compression and fits comfortably under my breeches and into my boots. Sockwell socks fit the bill all year round, whether a hot summer day or chilly day in winter. And, being sensitive to wool, no uncomfortable reaction to the fabric!"
"These socks are cute and comfortable. Walked 10+ miles a day on a recent trip in these and they were fantastic. Love the bright colors! I will only buy these from now on."
5 myths about compression wear busted
If you've never worn compression socks or compression stockings, you probably have some mistaken ideas about them and their use. There's a lot of misinformation out there. It's time to debunk some long-standing myths.
Myth #1: Compression socks are only for people with a medical problem.
It's true that compression socks help prevent spider veins and varicose veins, and treat edema, among other chronic venous disorders. And they're a prescription item for people with certain medical conditions such as diabetes, phlebitis, and venous leg ulcers.
But compression socks are also for everyday wear. They're intended to promote healthy circulation in people engaged in any kind of work or recreation. Anyone with a job that requires sitting or standing for long periods of time, travelers confined to a car or plane seats for more than a few hours, and athletes whose sports involve running can benefit from compression.
Some people believe compression socks can actually cut off circulation and are therefore dangerous, but properly sized compression socks won't cut off circulation.
TRUTH: Compression socks benefit everyone.
Myth #2: Compression socks are ugly.
Today, stylish casual and dress compression socks and stockings are available in a variety of fibers like cotton, wool, spandex, and nylon. They come in bright colors, patterns, and prints. You will also find them in three lengths: knee-high, thigh-high, and pantyhose. You can choose from sheer and opaque. The options available are so beautiful and stylish, there's really no visible indication of their medical efficacy. You'll simply feel the benefits as you go through your day.
Advances in research and design also mean that today's compression socks offer more performance features. You can buy socks that absorb and wick moisture, have antibacterial, odor-reducing properties, and provide irritation-free flat toe seams.
TRUTH: Compression socks are fashionable.
Myth #3: Compression socks are hard to put on and take off.
Today, new technology and materials make compression socks more comfortable and functional. However, there are certain standard techniques that make it easy to put them on and take them off.
For example, never bunch them up. Instead, grab the heel pocket and turn the sock inside out. Slide the sock halfway onto your foot. Hold both sides of the top band and pull the sock over your heel and up your calf. Adjust the heel pocket and smooth out any wrinkles. The band should be the width of two fingers from the bend of your knee.
In addition, there are several accessories such as donning butlers, special rubber gloves, and roll-on adhesives that are easy to use.
TRUTH: Proper techniques make compression socks easier to put on and take off.
Myth #4: Compression socks are expensive.
Because compression socks are considered a medical product intended to meet a medical need, they must also meet standards of performance. Compliance with those standards determines what materials are used, the fabric finish, the technique used in weaving, and the level of compression -- all of these things contribute to the cost. Durability, ease of care, and quality assurance are also features of a premium brand like Sigvaris.
Sigvaris offers several lines of premium compression socks at various price points, so you can find something affordable.
TRUTH: A wide selection of quality compression socks are affordable.
Myth #5: You shouldn't wear compression socks in the summer.
There's no off-season for healthy legs. In warm or hot weather, you have an increased risk of weakening or damaging the veins in your legs, so you may be putting yourself in danger if you believe that compression socks are too hot for summer wear. What's more, you can choose a sheer, breathable compression socks that actually make your legs feel cooler and more comfortable.
TRUTH: The right pair of compression socks will be comfortable in warm weather.